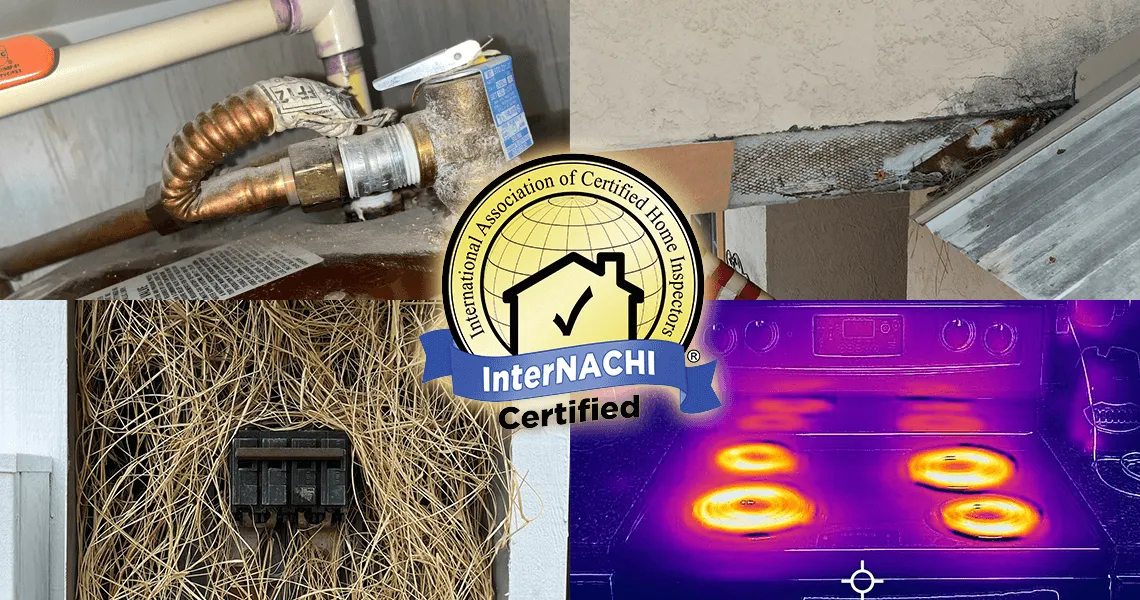 What is a home inspection? Why do I need one?
A home inspection is a visual examination of a property. You hire an inspector because you're either looking to purchase a property and you want to know what you're getting into, you want bargaining power, or you simply want peace of mind. Sometimes, you already own a property and decide to hire an inspector to find regular maintenance items before they become major problems.
We include a 4-Point & Wind Mitigation report with all pre-sales inspections at no additional cost as a convenience to our clients.
What sets us apart?
Above all else, we don't nickel and dime our clients. We use the latest technologies to help protect you (and your pocketbook). One of the most important steps we take is to take a 360° Photograph of every single room, provided to you in the form of a tour (example linked below). We go the extra mile, such as notating the serial numbers for all major appliances. We photograph the condition of things like your stove, refrigerator, and furnace inside and out. Come closing day, if you even think "Was there a stain on this ceiling?", you can review our documentation and 360° Photographs to verify that nothing major has changed.
View Our Demo Reports Below
Here are some of the things an inspector will look at
The Roof - Coverings and its underlying structure
The Exterior - Walls, doors, windows
The driveway, walkways, steps, stoops, and ramps
Porches, patios, decks, balconies, and carports
Vegetation and Grading
The foundation of the home (basement, crawlspace, and/or structural components)
Heating, Cooling, and Ventilation systems
Plumbing - sinks, toilets, showers, tubs, water heater
Electrical - Service entrance, building ground, electrical panels, GFCI's
Smoke & Carbon Monoxide Detectors
Attic Insulation & Ventilation
Fireplace Safety
This is NOT an exhaustive list of what we check. We follow the InterNACHI Standards of Practice.
Why should you choose us?
We take pride in our work. We don't charge more to use the latest and greatest technologies - We use them by default. While we do offer ancillary services such as Sewer Scope Inspections, our home inspection is a thorough visual inspection of anything readily accessible that falls within our Standards of Practice. We use drones. We use thermal imaging. We use moisture meters. We use inspection cameras to see into nooks and crannies if necessary. Most importantly, we don't charge more to do any of that. It's all included in your inspection fee.
Same Day Reporting
We strive to get reports issued on the same day as an inspection. Our official guarantee is 24 hours, however we generally have our reports published the same evening of the day the inspection took place. Expectations should be realistic, however. If you've ordered a home inspection, sewer scope, 4-Point & Wind Mitigation all on the same service, please do allow us the full 24 hours to generate your reports.